The Best Leisure City -------Yantai
·Located in the eastern part of the Shandong Peninsula and
·Bordering the Yellow Sea and the Bohai Sea.
·Has 230 offshore islands and seven natural bays.
·1038 km-long golden coastline connects the mountains and the sea.
·Beautiful scenery and four distinctive seasons.
·UN-Habitat Award City.
·China's most charming city.
·National historical and cultural city.
·One of China's first 14 open coastal cities.
·The best leisure city in China
·The only International Wine City in Asia.
·National Excellent Social Management city.
·The birthplace of Wu Style Taiji and Mantis Boxing.
·One of the birthplaces of Jiaodong folk culture and Shandong cuisine.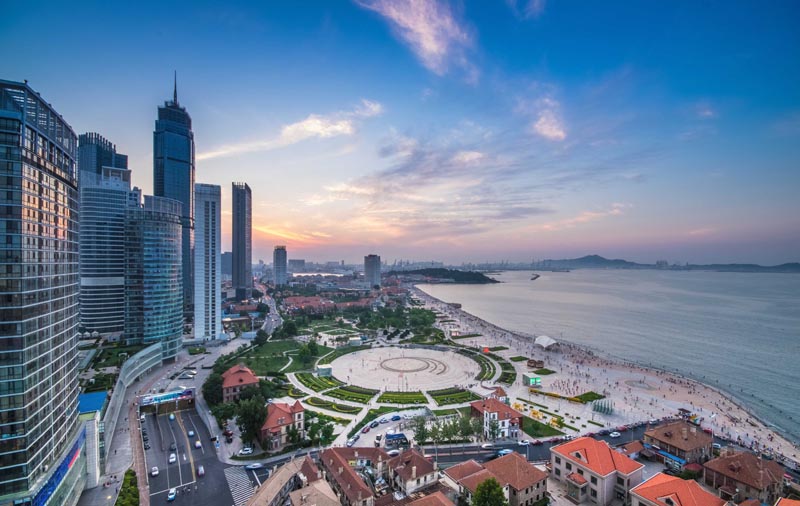 Yantai is a prefecture-level city in Shandong Province, China, located on the northeast coast of Shandong Peninsula. Yantaiborders the cities of Qingdao and Weihai to the southwest and east respectively. It also borders Weifang City from the west and is surrounded by the Bohai and Yellow Sea. Opposite Yantai lies Liaodong Peninsula as well as Dalian City. Yantai City is positionedat the foot of a mountain alongside a beautiful scenic coastline. The complete surface area of Yantai covers 13745.95 square kilometers with a coastline that runs 909 kilometers long.Encompassing the Bohai and Yellow Sea are 63 distinguishing islands. The prefecture-level city of Yantai administers 7 districts: Zhifu,Fushan,Muping, Laishan, Gaoxin, and Kaifa; 7 county-level cities: Longkou, Laiyang,Laizhou, Penglai, Zhaoyuan, Qixia, and Haiyang as well as Changdao County.

There are many interesting places in Yantai which attract thousands of tourists from all over the world, such as the Penglai Pavilion, the Stone Tablet Inscriptions of the North Wei Dynasty(386-532) on Mt. Yunfen, Changdao Island-the fairy land on the sea, Horse Raising Isle, national forest parks, natural preservation areas, provincial tourist and holiday resorts. The graceful islands, fascinating gulf and blue water with golden sands make Yantai one of the most popular tourist sites and summer resorts in northern China. With a simple and honest lifestyle, fresh and open culture, rich tourist resources and colorful touring activities, Yantai will bring you a new sense of recreation.
The convenient ferry service between Yantai and Dalian cuts travel time significantly.The Yantai - Qingdao and the Weiha - Rongcheng intercity commuter trains bring convenience and fast travel between these cities on the peninsula.From Yantai International Airport, flights to cities like Seoul, Osaka, HongKong, Taipei, Beijing, Shanghai, etc. are always available.The Penglai International Airport will become an important airport in Northern China with an annual handling capacity of 6.5 million people.Yantai has a temperate marine climate with abundant sunshine and 4 distinct seasons.The temperate climate means that Yantai is never too hot and humid, nor cold and dry.Yantai is located on the Jiaodong Peninsula, the birthplace of Shandong folk culture.
Yantai is the home of Shandong cuisine, one of the eight major cuisines in China. It is world-famous for its abundant seafood and assorted fruits.In 2005, Yantai received "UN-Habitat Scroll of Honor Award"and was awarded Most Suitable City for Logistics Development by Forbes. Yantai is one of the First 14 Coastal Cities in China to open to the outside world.It is also known as an international vineyard and wine city.Yantai is one of the most charming and flourishing cities in China and was recognized as a National city of excellence in tourism. In addition, Yantai is a National City of Excellence in Comprehensive Administration of Public Security and a National Model City of Environmental Protection.